whatever happened to Jonette?
There'd been so many things happening in my life right now, I think I'd forgotten how to write about them. Hah!
What's been happening, so far:
1) I've just delivered my first commission job.
Mik, dear officemate of mine, gave me her two pairs of jeans, one to hem, and another to reconstruct into a skirt. Hemming denim is simple enough. Working with stretchy rayon-cotton fabrics, however, was an entirely different matter.
To my knowledge, you stick to cotton when you're a beginner, and when you're better, you then can start working on stretchy or silky fabrics -- like, well, silk, satin, brocade, jersey, you name it. And you'd need an edger for stretchy stuff, to make sure the hems don't fray. (What does an edger stitch look like? check the underside of your t-shirt. You see that loopy, complicated-looking stitching on the hem? That's edger work.)
Well, I was given a job, and she trusted me to do something about her garments, with the tools I had at the moment. Only one way to find out if I'm screwed for good.
A couple of weeks after, I managed to finish both jobs, and had Mik fit them, see if they needed adjustments, and al the time I was thinking, "oh god, what if what if what if..."



And she said they were good.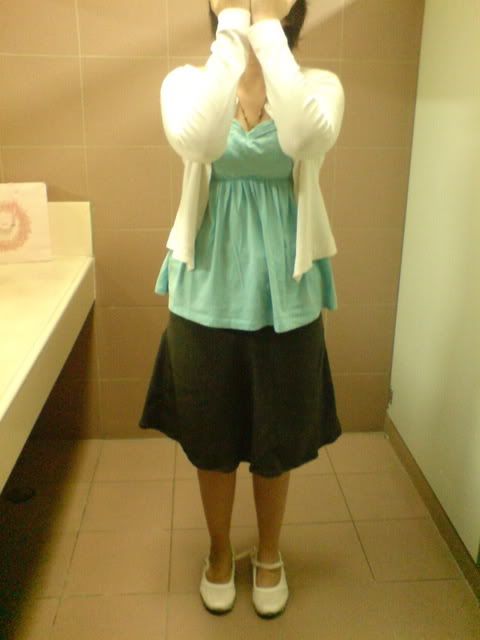 She told me after what was important to her was that she could use them once more, and as long as she's happy, that's all that matters to me.



2) I'd like to buy a new sewing machine, please.

If I'm really to start getting serious about sewing, and really start taking commissions, I'd want a sewing machine that is efficient, durable, and has all the features I need. If it comes with a set of useful feet, the better. I love my present sewing machine and it has indeed served me faithfully, but sometimes its quirks have me wasting more time instead of getting the job done sooner. (sigh) the sad thing is, the nearest (and only) sewing machine repair shop in our vicinity has closed shop.
I blame the recession for this, and I can't help but feel bad for the shop owner. He's such a sweet old gent.

On the other hand, the machine has become my own Little Engine That Could. I mean, think of it: It's been abandoned, tossed around, its tension control glued shut and immobile and useless, its machinery coming apart, and still it sews for me.


yes, there's more.

I still have quite a list of commissions and promises to fulfill -- an experimental blouse, peasant skirts, poofy lolita skirts, and dresses -- and I do feel amazed and elated and plain bowled over by all this. So many things to make, and so little time! I am much, much thankful I still have a day job to support this drive of mine to create. (Tip: as an artist, it pays to keep your day job, really. The Recession needs your art to keep minds moving and growing, but it also needs you to stay ALIVE. and HEALTHY.)

What does James have to say about all this? He's been very supportive in his own way, and does his best to reel me in (and hold me back) when I run the risk of wearing myself thin with work as I'm wont to do. The man does his best to keep me happy and sane, and I love him for that.



3) Work? Oh right, work.

The lessons have been steadily piling up, and I

think

I've settled in quite nicely. Surprise, surprise, teaching's a little bit of theater, after all. Let this pale, anemic, rubenesque girl thrill you with word physics and algorithms, and a little bit of vocabulary art. I am your glottal showgirl, 30 minutes private show.


Harder Better Faster Stronger - Unknown

The GoFluent Corset Challenge 2009
This is just to say workbuddy Raymund Suba has been putting together a corset-making challenge open to interested parties at the office, and yours truly is one of the contestants/organizers/lab rats. XD Yay!
We've pretty much decided on the deadline, and are fleshing out the mechanics and prizes as we go along. so far, I've set up a blog to document the details and pictures, but as
you can see
, we'll still need to put in real content. This is going to be
sooo
awesome. :D
This just gives me more reason to hurry up with the commissions! Waah! :D
Hello, everyone. Meet Gertrude.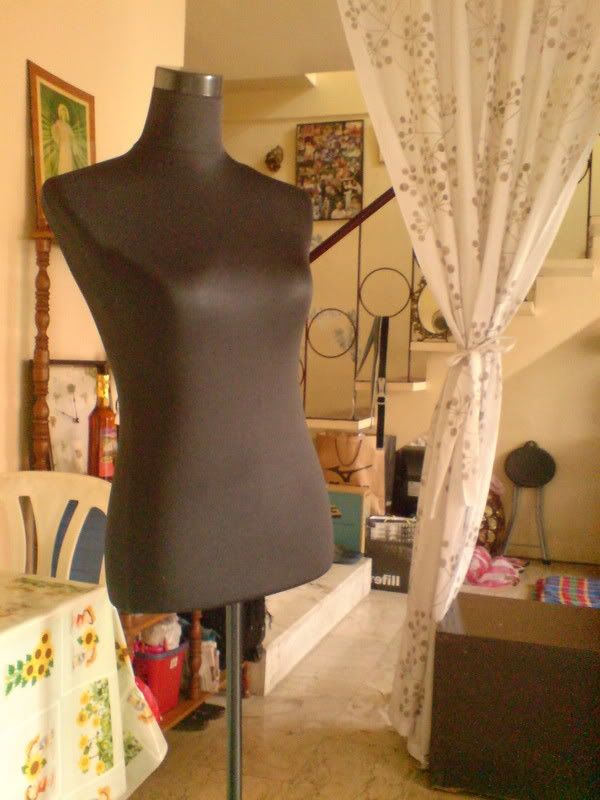 Gertieis the newest (and quietest) member of the household. She stands at a variable height, her measurements at 34-30-32, and is the fruit of a whirlwind romance between Ms. Plasticene and Mr. Rubber. She's a terrific help most the time, looking lovely, wearing the clothes I make, but she has this nasty habit of getting tipsy and keeling over at times. Not very elegant, is it? I must speak to her eBay seller sometime.
Anyway!
I had something very specific in mind when I first saw her --
and this pretty much meant I'd do my best to see how far my sewing craft will take me. This may also mean Gertie modeling my creations in the future as a mini-business, but

ack!

Let us not speak of this yet. Plans are plans, but I intend to do and do and do some more until something good comes of it.

Here are a few of her first pictures:


Gertie in the office. Her presence attracted a few quizzical looks from my work-buddies. Hijinxery followed soon enough.

Introductions are but the proper thing to do, even by sticking one on Post-it on her chest.

My co-workers soon joined in on the fun, and took certain steps toward --ehem--
decency
by bestowing Tim Gunn's immortal words from
Project Runway
on Gertie's left boob. Pasties for a mannequin. Really.
Gertie all tarted up. Doesn't she just look dee-
lish!
XD
Gertie finally at home(just as so the first picture waaay above), and me pinning and draping and playing around.

Video: Prop 8, THe Musical
Because this video is too hilarious and timely for words, as found off
OffbeatBride.com.
Return of the Comeback
... Or why Jonette has to resort to old Pinoy movie titles to start a post.
Hello everyone. It certainly has been a long time since I posted, and it's a shame shame indeed. Well, let's just say Life happened, and lots and lots of it. Whee!


Ergo, our line-up of delicious posts shall be as follows, alphabetically by height:


Meet Gertude.

The DIY Body Form.

The

Earth&Sky

Green Ice Tea Cake.



and,

The Jeans-to-Skirt Reconstruction, A-line Edition.

with that, I shall leave you with a little ditty that made my day. ♥





Hotel Song - Regina Spektor
More at MP3-Codes.com



Class dismissed!