Hello, everyone. Meet Gertrude.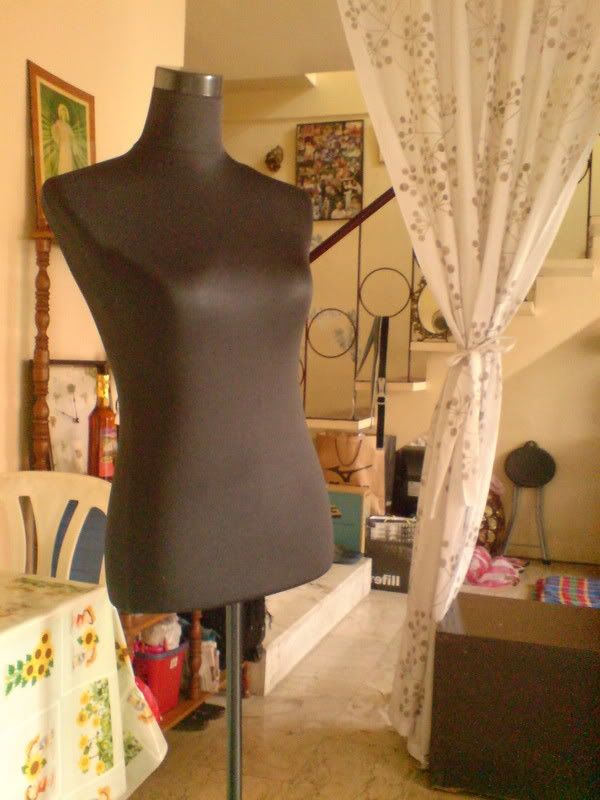 Gertieis the newest (and quietest) member of the household. She stands at a variable height, her measurements at 34-30-32, and is the fruit of a whirlwind romance between Ms. Plasticene and Mr. Rubber. She's a terrific help most the time, looking lovely, wearing the clothes I make, but she has this nasty habit of getting tipsy and keeling over at times. Not very elegant, is it? I must speak to her eBay seller sometime.
Anyway!
I had something very specific in mind when I first saw her --
and this pretty much meant I'd do my best to see how far my sewing craft will take me. This may also mean Gertie modeling my creations in the future as a mini-business, but

ack!

Let us not speak of this yet. Plans are plans, but I intend to do and do and do some more until something good comes of it.

Here are a few of her first pictures:


Gertie in the office. Her presence attracted a few quizzical looks from my work-buddies. Hijinxery followed soon enough.

Introductions are but the proper thing to do, even by sticking one on Post-it on her chest.

My co-workers soon joined in on the fun, and took certain steps toward --ehem--
decency
by bestowing Tim Gunn's immortal words from
Project Runway
on Gertie's left boob. Pasties for a mannequin. Really.
Gertie all tarted up. Doesn't she just look dee-
lish!
XD
Gertie finally at home(just as so the first picture waaay above), and me pinning and draping and playing around.