Ang Bandang Shirley Scary Debut! W00t!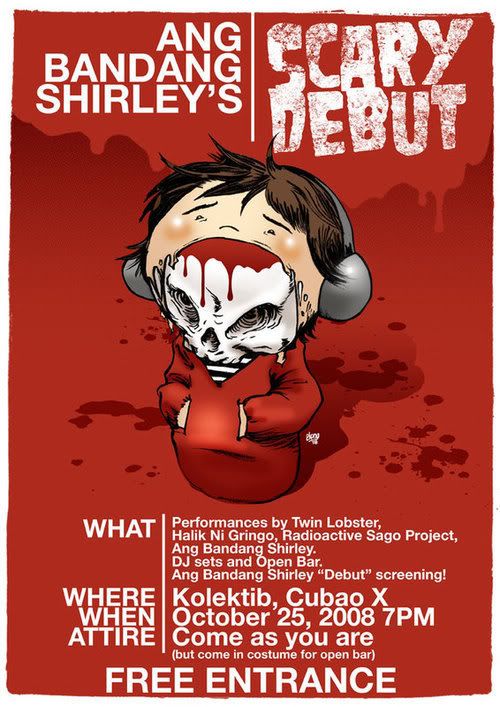 Dear Ladies and Gents, I am very proud to announce that the
Scary Debut
album launch for
Ang Bandang Shirley
was a complete success! There were awesome people and awesome costumes to be seen, drinks to be had, and hap-hap-happy dancey music to rock to! True,
my head and feet hurt from the heels, the cigarette smoke, head-nodding and dancing
, but what the hell! My cousin-aunt
Selena
and her bandmates are made of unadulterated, authentic, concentrated joy and awesomeness, and make up 100% of your daily dietary allowance of
H

ap

py!
Pictures and videos shall follow shortly, soon as I retrieve my uploading cable from my workstation. At the office. (Silly, silly girl.) a shout-out to
NineMoons
and
Guia
for taking time off their busy schedules to head-nod, dance, and join the throng of costumed indie-folk and music lovers.
Copies of the album was sold as the band played, and it features a pocket-sized and headphoned pinoy
Kokeshi
doll, looking askance at cork stamps and petite religious items. The back cover shows the same doll at rest, snuggling on the warm comfort of a cotton towel serving as insulation for tasty, piping-hot
balut
. (
Subliminal Message:
Buy the CD.
You
want
to buy the CD. You
must
buy the CD. You
will
buy the CD.

Tomorrow!
)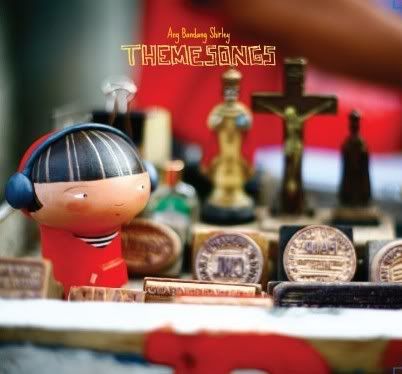 For the non-Philippine-bound readers, do feel free to enjoy the band's unique sound with this finely-crafted playlist.The songs may be in Filipino, but the music will make you want to fall in love with Living all over again.