The Birthday Dress: Strap Work
With only 5 days until the Big Day, I thought it'd just be fitting to bring out The Birthday Dress and give it a nice do-over.
Back when was still in college, my mom bought this lovely teal dress for me, it was nicely shirred from bodice to waist and flowed like a dream. There were two things about it that stopped it from ever seeing the light of day. One, the dress' skirt was beyond floor-length, and two, although it had a sweetheart neckline, the straps were placed in positions that were unflattering for my shoulders and chest.
Well, then. Can't let such a pretty go to waste now, can we? ;)
I first ripped through the sewing binding the dress straps to the front, leaving the back attachments be for anchoring and a bit of reference. I wore the dress, and decided where the new front points would best be sewn. So, from the straps attached to the tops of the --ehem -- dress's heart-mounds, I chose to re-attach them to the sides of the bust, on opposite ends of the chest width. (this means nearest the armpits.) This allows better support for the breasts, combined with the binding power of the shirring, plus a much more feminine slope to the shoulders and collarbone. Collarbones are teh sexeh on ladies, so if you got it, flaunt it! ;)

Once I made absolutely sure the straps were right where I wanted them, I pinned them with giant safety pins for added security. I ten w2ore the dress again to double check how the straps and the bodice now looked on its intended fleshy three-dimensional body. And boy, do I mean fleshy.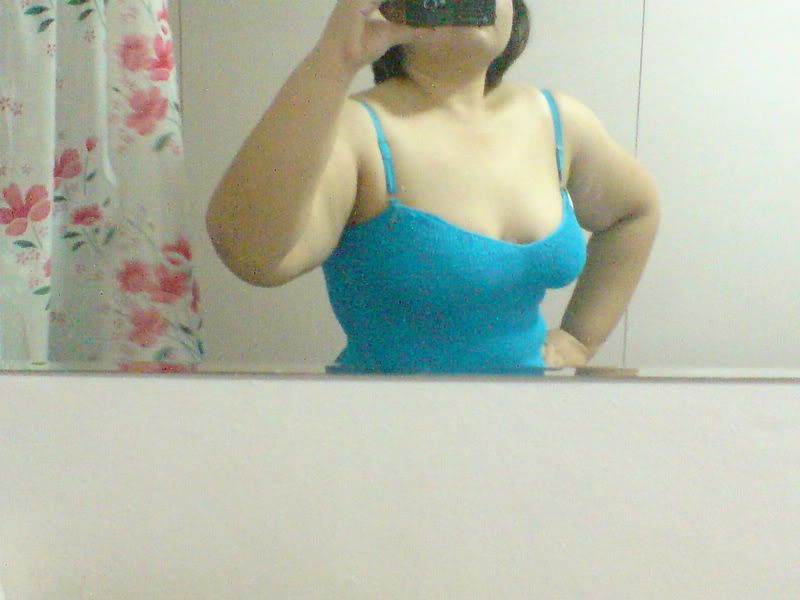 ... And here we have our final strap position. I'm really very happy with how the repositioning changed the way the bodice behaves now. It now reminds me of the upper part of a vintage bathing suit, though I can't quite place my finger on what era just yet. Ack, I'm just happy. :)
I've already sewn the straps in place doing it over thrice for strength. Next Stop: skirt length.