Sweet 26 Almighty!
Happy birthday to me a long time ago. It's been 10 days since I turned 26, and Life as always happens while you make plans.
The best things about my birthday, in no particular order: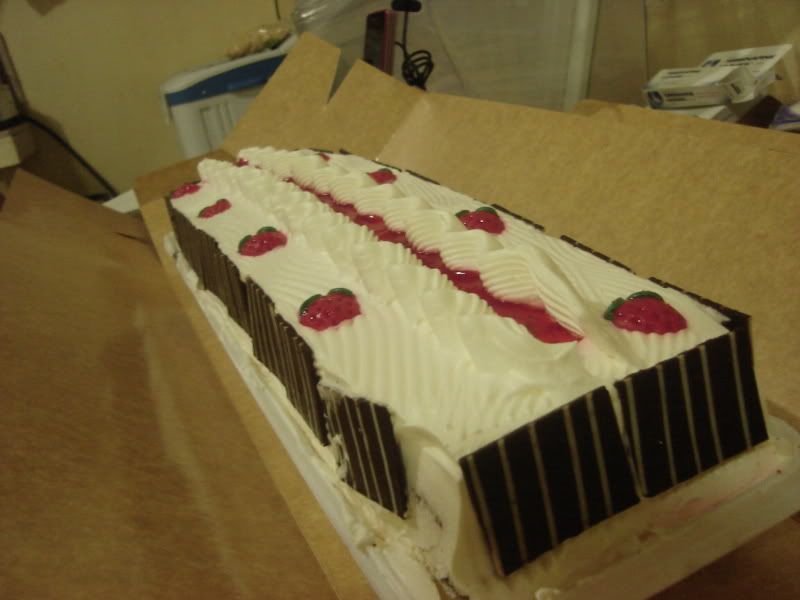 Four days of rest (sort of). I took the liberty of going on leave on my birthday and the day before -- the dates would be October 15 and 16, Thursday and Friday respectively. Follow that up with Saturday and Sunday.


Dinner with my dad, grandmother and brother in Cyma. I'm glad I listened to my office pals on this one. I don't really get to see my dad and my folks often, and so I was totally looking forward to this. Cyma had very good Greek and vegetarian food to offer, and by god did we love it. My dad's meatless moussaka looked mighty interesting, and the stuffed grape leaves were lusciously savory. (Wow, pine nuts and rice!) I fully recommend getting the bottomless lemonade -- you can never go wrong with freshly-squeezed lemon juice. Seriously.


Being woken up to cuddles from James. My boyfriend came home to me on Friday morning, with a number of sweet gifts in tow: A lucky Mikuru gashopon capsule toy (I say lucky because he got the exact toy I wanted on the first try), a fresh deck of Magic: The Gathering playing cards from the Zendikar expansion (to replace the others that got swept away by the flood), and a boxful of silvanas -- my favorite! We spent the rest of the day chillaxing: a few games to test our new decks out, having a simple meal of chicken sopas and rice, and watching anime together.


Sometime in the day, I snuck out to buy cake and iced tea -- the iced tea was to accompany the pizza for dinner (yebba! Horray for Domino's!), and the cake was for distributing to folks within the compound. That's the cake above. It was the only Strawberry Fudge number, the lonely lolita in a sea of teddy boy chocolates and mochas. So I promptly took her home, cut her up, and shared the spoils, and gobbled her up. Yum. (Note to self: Never ever sneak out again, at least without James knowing. It's liable to give him a fright and send him searching the streets for me.)


Making the box of silvanas last until the end of the next week. Mmmm.


Getting the house's repairs started. Finally! Through the kindness of my workmate Irl and his wife Ditas, they recommended their carpenter to me, and I do feel I have struck gold with him. Mang Julio is super-efficient, honest, and never fails to amaze us with his skills. I'm just glad James knows how to talk shop with him, because I'd be lost with all the carpentry jargon! Awesome non-leaky roof coming up! After that, there's the getting the bathrom door un-warped and setting it flush against the jamb, then the pipes and getting the loo a proper lever-flush. (Okay, so it's really not within those four rest days, but c'mon! That's like an achievement for me.)



Scott Westerfeld's Leviathan. The other girls can keep their glittering vampires. My fantasy involves clankers and beasties and steam. Lots of steam.


Making plans for the first floor renovation. Now, I'm thinking of turning the first floor into something closer to an atelier/informal entertainment spot rather than a traditional lounge with couches and all. First three items that come to mind:
A large, sturdy wooden table that can serve as an all around working surface -- food preparation, textile cutting, sewing space, you name it. I'd also want it to serve as a dining table, and I'd want it strong enough to support a full grown man.
Bring my mother's Indian silk carpet down, set it in the living room, and that where we entertain our guests. Pillows are a must. And yet, the biggest (and possibly most expensive) one of all --
Murals on the walls. I'm not talking about a thin strip across the middle, I'm talking about large, loud and crazy, cover-the-entire-wall-and-possibly-the-fixtures-too murals. The sunshine yellow my mother chose for the walls are already chipping and peeling all over, and it's driving me nuts! I'm thinking of wire dress forms, Giant octopi, and bright colors. James has already expressed that "yes, I will look at you weird if you paint a giant octopus on your wall." Hee.
There have also been other crazy hijinks along the way, both family- and apartment-wise, but it's mostly been all good.

Do I feel 26? do I feel any more grown up than I did when I turned 25? Nooooooooooot really. for now, I'd like to invoke my Facebook stat on the my birthday:
Here's to another year of adventure, comedy, and romance with an all-star cast! (of course, that includes you too!) Huzzah! Huzzah! Huzzah!