Pocket watches are lovely.
I have this terrific knack for sidetracking myself and stumbling upon the most awesome finds. I tell myself, "Okay, Jonette, you only need to buy a couple of meals for lunch and dinner to bring to work, and nothing else. Nothing else, right?" "Right!", my Ego chirps, and then it catches a glimpse of something, and goes "Ooooh, pretty!" and there go my plans out the window.
Well, not all the time, at least,. I do often get the job done as intended, but not without some extra shopping on the side to boot.
Take this past Thursday, for example. The mental conversation up there? Actually happened.
Then this happened too.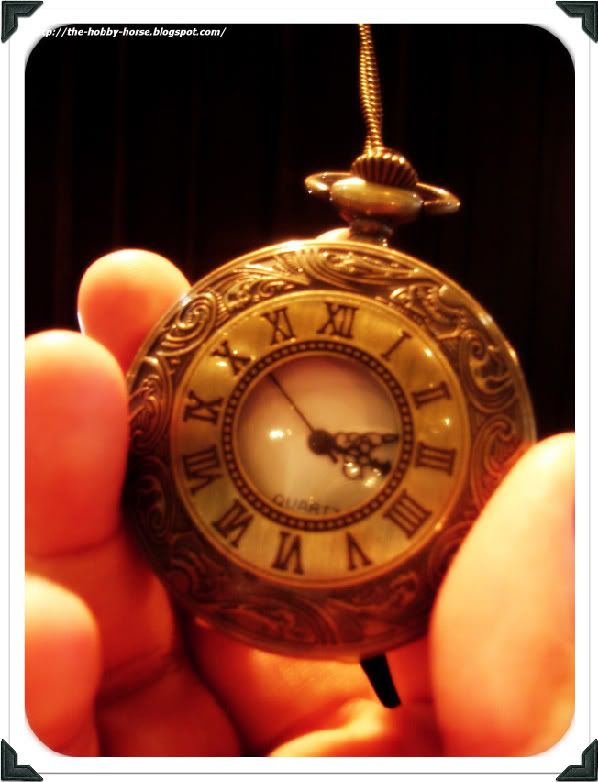 Happy accident indeed.
I discovered a small jewelry stall near the National Book Store nearest my workplace sold Korean-made, yet rather authentic-looking pocket-watches. They were sold at the asking price of P250.00, but with some persuasion, the shop-keep sold a pair of lovelies to me at P220.00 a piece. Not a bad deal, if I may say so myself.
There were chrome-plated petite ladies' pocket-watches in fanciful shapes, but I preferred the larger brassy pieces. I think it is not difficult to see why.
The shop displayed quite a number of
full hunter-case and half-hunter case watches
. The above pocket-watch is a fine specimen of the half-hunter variety.
An example of a full hunter-case watch.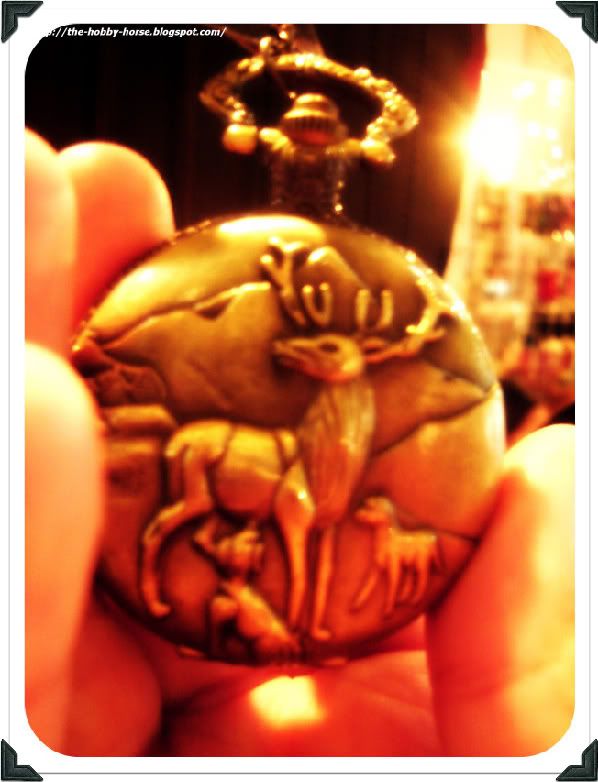 Another full-hunter case piece, as hunter-ly as it can get. Although I must admit, I do find the idea of a stag and hunting hounds relaxing together rather odd for a hunter watch.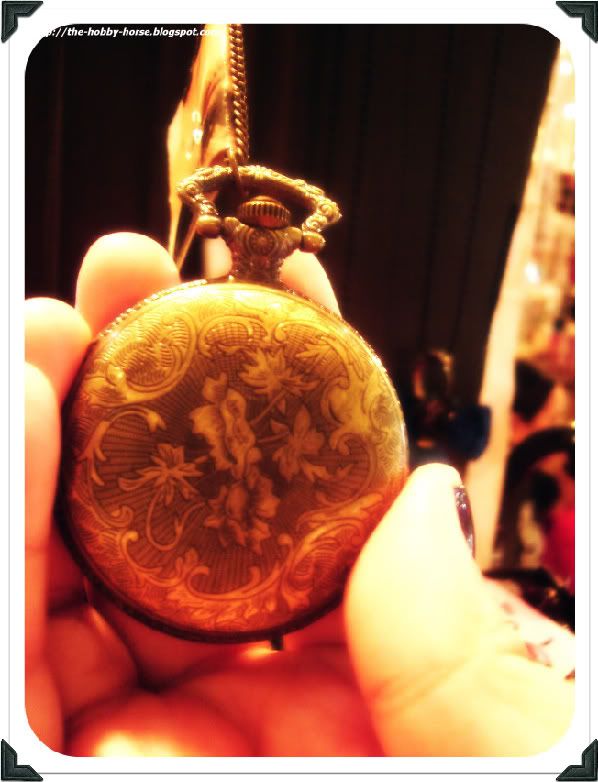 The
toile
-like etching behind each of the watches.
The beauties I took home with me.
Now these make me want to start working on the faux-waistcoat corset I'd been planning on a long, long time ago. I'd love to wear it with a buttonhole chain; my thanks to Mon for joining me in the hunt for instructions, and for giving me ideas on how to construct my own chain.
As a matter of fact, here's
a list of ways to properly wear a pocket-watch on your person
.
Mmm. Mulling over the possibilities and potential design-tweaking makes me giddy.