From the Desk of Charlie Chan, Part I
First off, Charlie Chan is a fictional Chinese-American detective whose cases and adventures thrilled readers and soon graced the silver screen during the heyday of black-and-white movies from 1931 to 1949. (44 movies! Imagine that!) He was also famous for his aphorisms, as well as for his children. find out more about him from CharlieChan.net, The Charlie Chan Family Home, and Dr. Berlin's Chan Site.
Got it? Get it? Good.
Last Tuesday, I had come back to the office, still sore-throated and hoarse from a nasty bout of laryngitis. who should come up to me and brighten my day but Mon with something precious in tow for me.
It was the bowler hat I'd ordered along with his last year! And the real thing too! Thank you, thank you, thank you Mon for having me piggy-back with you on the purchase. I'm sure the top hats you'll order with AJ will look quite dapper on you.
So pretty much, AJ and I played around with the hat.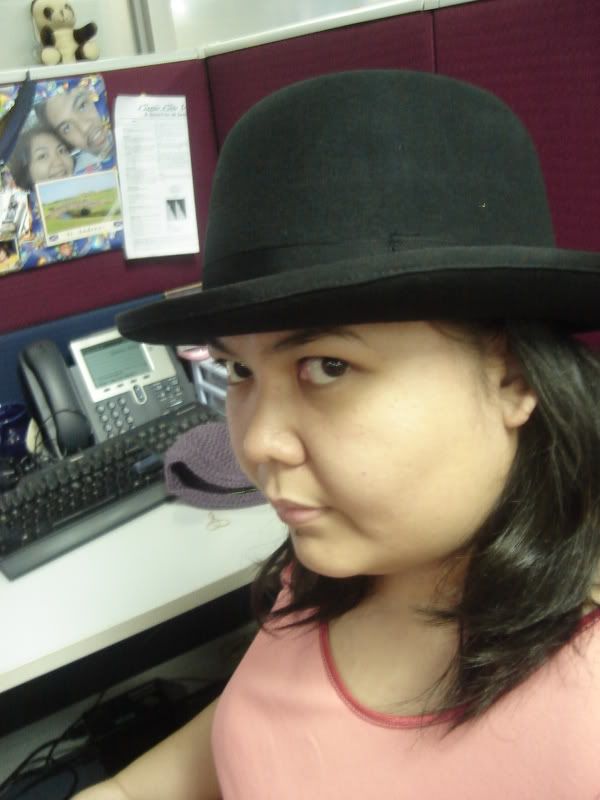 And next, AJ says, "Hey! Let's all get dressed up, and have our pictures taken! It'll be fun!"
I honestly thought it was to formally christen out bowler hats, but it wasn't, and I still had fun anyway. I can in a stretchy-collared polo+necktie+wool vest+
the gray skirt
+ brown stockings + heeled wingtip patent leather shoes ensemble. I was doing my best to channel Sting's
Englishman in New York
, but when I came to the office, Justin called out, "Hey! It's Britney Sears!" and sang
Oops! I Did It Again
and
Baby One More Time
all day long. Ooooh, boy.
*facepalm*
Ah, guy pals. They never let you down.
A few pictures I took of myself before the pictorial proper: