Having Clair Over
seen on a tarpaulin at a net cafe up out street.
I was pretty excited for last Saturday evening. Good crafting buddy and all-around gal pal
Clair
was coming over to stay for the night! Yay for sleepovers!
It was all wonderful fun: she met Tweed, and was very careful around him. It was so cute seeing them together! the cat was quite hesitant at first. He had this look on his face that went "Who are you and why are you rubbing my belleh, human?" Soon enough, it soon dawned on Tweed and he resigned himself to the truth of yet another recruit of his slowly-growing army.
Yes. My cat will soon have an army of adoring women to take over the world. I'm just here to open the cat food. XD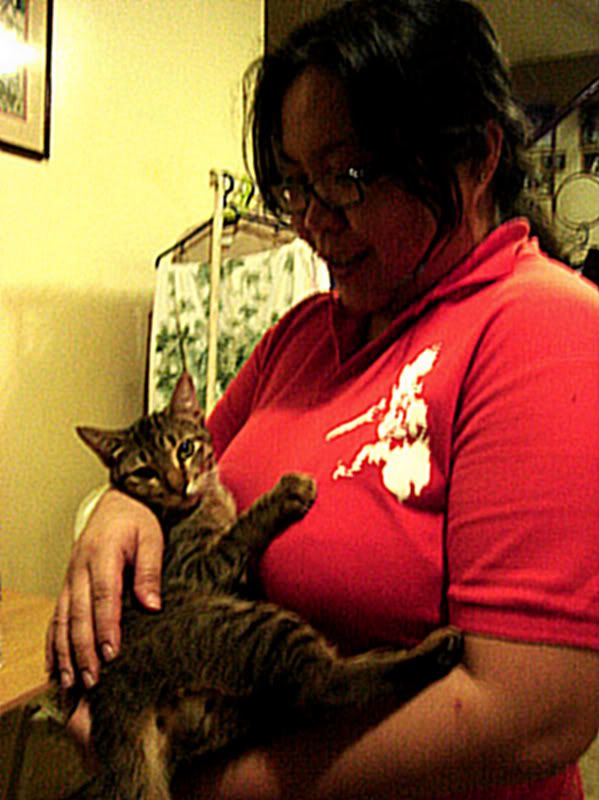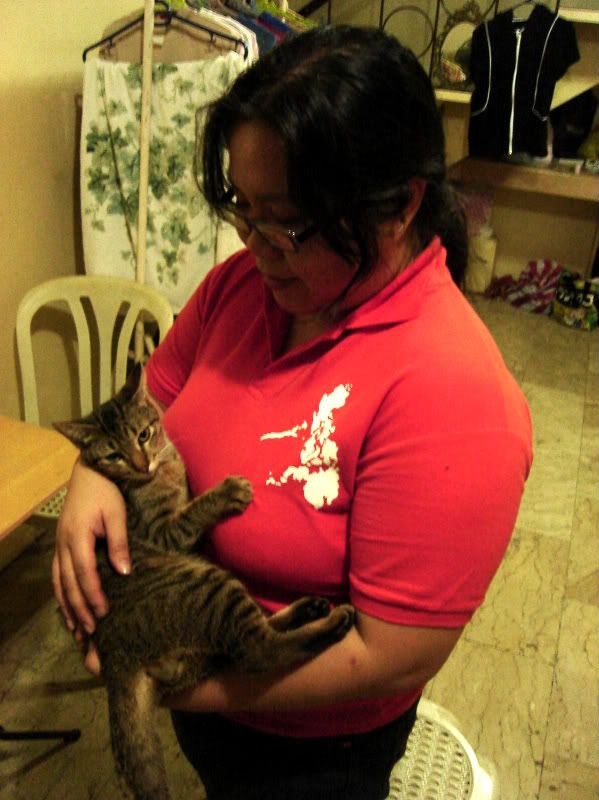 Tweed indoctrinates his new willing recruit.
After a simple dinner of fried milkfish (daing na bangus) and hot rice, we chatted some more. It seems the cat was more interested in a quick nap instead of fish: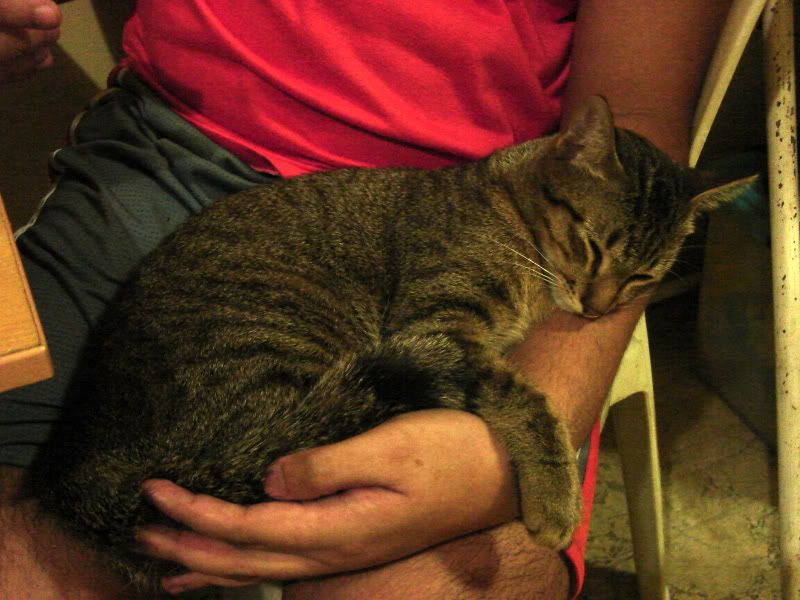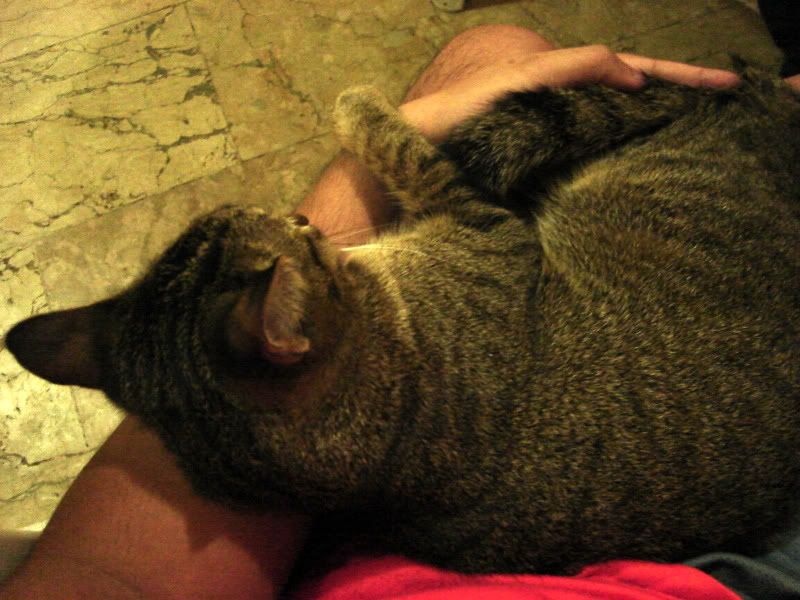 It must be noted that the moment Tweed had settled in James arms, every time he'd would shift position, the cat would miaow. Loudly. His Royal Highness' beds (yours truly included) should have no problem keeping perfectly still, after all.
James was a wonderful host that night too. He was such a big help putting dinner and breakfast together, and he kept the fun, geeky conversation flowing. My man is awesome. :)
After we convinced Tweed to get back on his feet (to which he petulantly turned about and hopped onto the top of the fridge to glare at us), we set the futon and pillow and blanket down for Clair, and as I promised, I taught her how to knit.
At least, I think I did.
For a southpaw, teaching a right-handed person makes for a very interesting experience. that evening I learned:
how to cast on with my right hand;
how to describe all-too-familiar movements in a concise and comprehensive manner -- and failing horribly;
and how my tawdry tendencies will at some point come out in my instructions. ("Okay, take him from behind, go out the other side, loop it 'round once, pull through and up... and tell that other bugger to shove off.") What was I teaching her? English knitting.
Ghastly, I tell you.
Despite her nervousness, Clair was doing magnificently well for her first try! She picked a pair of US Size 5 knitting needles made in good steel, as a skein of
Lion Brand's CottonEase
in Hazelnut. she knitted and purled and knitted for all it was worth, and I could never have asked for a better first student.
Nor could have I asked for a more patient one! sometimes, when you get so used to it, you often forget some indispensable basics: do you loop clock-wise or counter clockwise? How do your help twisted stitches? and if a loop slips, how do you get it back? I realized there was also still much for me to learn, but I was glad Clair was so patient, and stayed with me though it all. :)
Sunday morning saw us glowing over a platter of crisp-cooked spam, cheesy omelette, and bowls of hot rice. No sooner than the dishes were done, Clair and I set to purling while James went playing Torchlight again.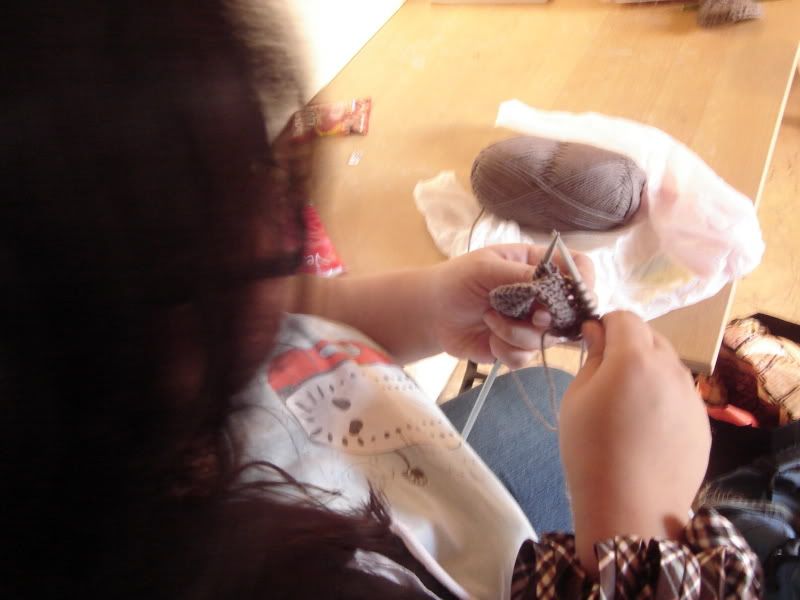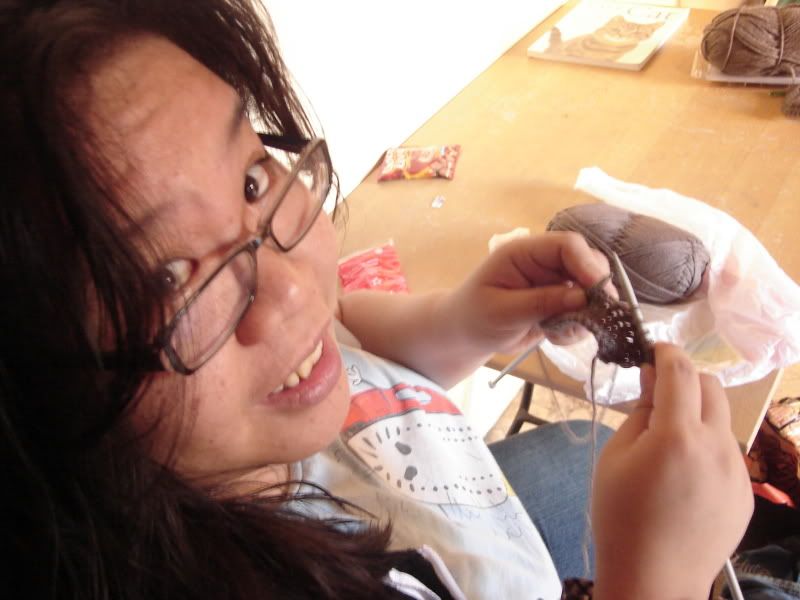 Look at her! Just look at her! Isn't she splendid?
Soon after, she took James and I out to a delightful spread of pizza, pasta, and piping-hot nachos, and recovering from an appropriately named food coma, we bade our goodbyes.
Here's
her account of the sleep-over. I assure you it is much more scrumptious than mine.
I am very happy to hear that she now finds continental knitting more to her liking. Can't say much for myself on this but hey! I'm glad she's found an easier way to knit, and that's all that matters.
Tweed is currently wondering where his new human went, but we do believe he'll be seeing more of her again in the future. Hope to have you over again, Clair! :)